Office of Independent Education & Parental Choice
Virtual Education Success Stories
Florida Virtual School
What students and parents say about FLVS
Megan
Megan Mascarenhas, a student of Florida Virtual School, placed in the final top 10 in the 2007/2008 First Freedom Student Competition, earning an honorable mention. Megan was one of over 2,500 students who submitted essays on the topic of religious freedom in America. The annual competition is open to American students worldwide, and is designed by the First Freedom Center to engage high school teachers and students in the study of American history and to challenge high school students to strengthen their analytic writing skills. Congratulations to Megan and to her teacher at Florida Virtual School, Ms. Susan Dupree.
Find out more about the First Freedom Student Competition.
Zach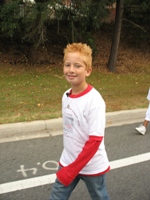 Zach Bonner, a student of Florida Virtual Academy, was selected by Volvo for Life for its 6th annual Alexandra Scott Butterfly Award. Zach and his family attended the New York Awards Gala Ceremony on March 19, 2008. Each year, Volvo for Life selects a winner from nominated children 16 and under who have made valuable contributions to society in the areas of safety, quality of life and the environment. As the award recipient, Zach will receive a $25,000 contribution to the charity of his choice. Congratulations Zach!
Find out more about Zach, Volvo for Life, and the Butterfly Award.